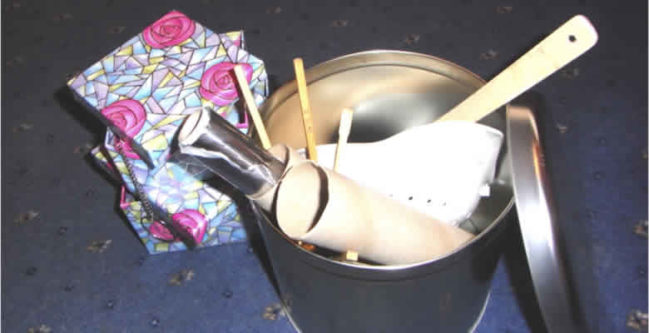 What is Heuristic play?
When babies start to walk and become more independent they need an environment of discovery and investigation – Heuristic comes from 'eureka'. This is the time when children will spend 30 minutes or more concentrating on seemingly random play. They like to post, hide, slide, pour, fill, put on, in and under.
Kathy Sylva and Jerome Bruner associated this concentration of play with cognitive development and educational progress. As practitioners we need to provide the environment and materials for children to be able to do this.
The environment
A clear space should be used, with all other toys and distractions put away. About an hour is needed (including putting out and clearing away). At least one member of staff should be fully dedicated to looking after this group of children. This is a great time to take photos and make observations. The time should preferably clear of distraction for adults as well.
An additional benefit is that whilst the toddlers are occupied with their play, other practitioners are released to settle in new babies or catch up on paperwork.
The resources
The resources don't need to cost a fortune. You may have most of the items already in the nursery. And be creative. For example, if you are lucky enough to live near the leather museum in Walsall, you can obtain scraps of leather for free (and have the museum tour!). The resources should be kept in draw string bags with wide mouths so children can easily help to put the resources away. They should be kept in a special place and only brought out a few times each week. Just as with treasure baskets, the resources are limitless, but below are some examples:
Woollen pompoms
Small bags
Bags of fresh herbs (thanks to Walsall Early Years practitioners for this great suggestion)
Range of boxes that will slot inside each other
Tubes which will slide inside each other (inside of foil tubes, kitchen rolls, cling films etc)
Strips of materials with different textures
Items with slots or holes (spatulas, rings)
Jar tops
Shells
Corks
Hair rollers of different sizes
Chains of various sizes and shapes
Variety of tins (with safe tops) such as golden syrup tins, biscuit tins
The items should be selected for their sensory properties, so natural materials are preferable. Smooth plastic, which gives very little sensory feedback, should be avoided.
A word on health and safety
Obviously as a practitioner you are not going to place your children in harm's way. Some of these objects may be considered to be potentially dangerous, particularly for babies who are still putting things in their mouths. You know your children and what you would be happy for them to experience. You know which ones will always chew first, ask questions later, or see any object as a weapon! This is entirely at your discretion.
Items should be cleaned regularly and thrown away if broken or considered dangerous.
References
Goldschmeid, E and Jackson S, (1994) People Under Three young children in day care Routledge Oxon pages 128 to 141. This is the text on treasure baskets and Heuristic play, as well as key person and second year of life. Heuristic play is covered in much more detail with examples.
Hughes, A (2006) Developing Play for the Under 3s, treasure baskets and heuristic play, David Fulton Ltd Oxon. Just a small book, but practical with lots of ideas and a section on language on page 76. If you fancy buying just one, this would probably be your best value for money in terms of being immediately useful. The RRP is £14.99.
Nutbrown, C and Page, J (2008) Working with babies and children from birth to three SAGE London Page 155. This is a lovely section about heuristic play, with a great example of how it can work, and ideas for practice.