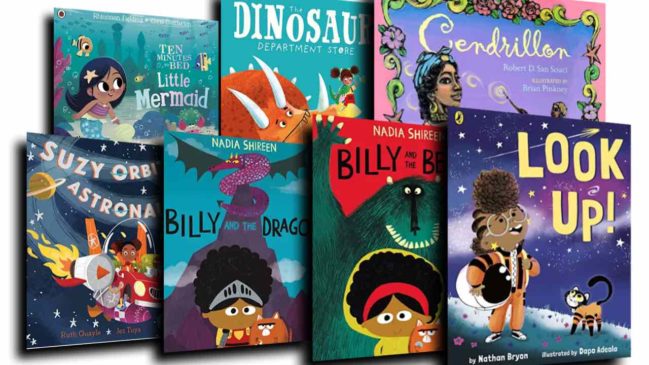 Quality Story Books for the Foundation Stage reflecting positive images for all
By Fiona Greenwood
I was delighted to be contacted by Fiona to tell me that she'd been inspired by Kala Williams's Early Years TV interview. Here's what happened:
After watching Kala Williams on Early Years TV I became painfully aware of how few books we had in our Nursery which reflected diversity. It also made me think about stereotypes in children's books and illustrations and I decided to spend some of our fundraising money on some good quality books.
As Kala had discussed, it struck me how few books there are which reflect Britain today so after searching the Internet I phoned my local Waterstones to help me in my quest.
They were incredibly happy to help and it was brilliant to see how many appropriate books they had for sale in their store. Vicky also ordered more for me and below is the start of what will become our new library. Some of these titles will also become our Core Books which the children will get to know extremely well.
I am Assistant Head at a predominantly white British Nursery School which made it so important for us to question the books we had and purchase new books which showed positive images of our whole society, not just of our immediate area.
This first list are great stories that depict black girls as the main character – not set in Africa – but here at home!
Look up! by Nathan Bryon
Billy and The Beast. by Nadia Shireen
Biily and The Dragon. by Nadia Shireen
Suzy Orbit Astronaut by Ruth Quayle
Ten Minutes to Bed Little Mermaid by Rhiannon Fielding
The Dinosaur Department Store by Lily Murray
Cendrillon by Robert San Souci is a fabulous Caribbean Cinderella. Imagine the discussions with this book!
Here are a few books where the illustrations depict diversity
Jack and the Flum Flum Tree by Julia Donaldson
When a Dragon Comes to Stay by Caryl Hart
Flotsam by David Weisz
The next few books kick stereotyping into touch for both boys and girls
Pink is for Boys by Eda Kaban
Not Every Princess by Jeffrey Bone
The Girls by Lauren Ace (This is a beautiful book)
Julian is a Mermaid by Jessica Love
And a few Early Years books about our environment in danger
World in Danger by Frankie Morland
Greta and The Giants by Zoe Tucker
A Planet full of Plastic by Neal Layton ( with multicultural images too)