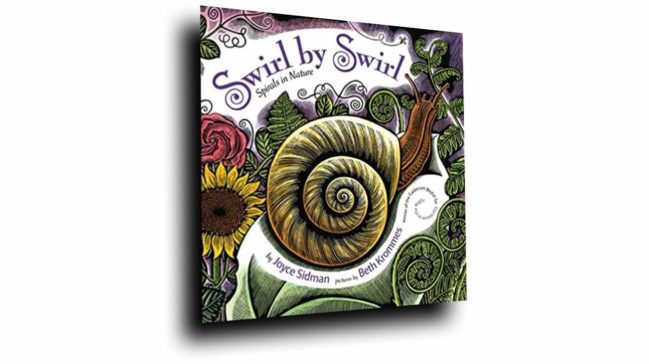 I used to think that there was nothing better than a children's book with great illustrations and a compelling story.
Last week I discovered that a book with great illustrations, a delightful story, set in nature, including facts for discussion AND links to schematic play, is even better!
The book is called Swirl by Swirl: Spirals in Nature, written by Joyce Sidman and illustrated by Beth Krommes.
In it, Joyce explains the benefits of spirals in nature, from fitting into small places to being strong and being able to hold on. She includes the more obvious spirals in nature, such as the sunflower head and daisy, but also includes whirlpools, tornadoes and waves. Within each full-colour page, the correct names are given for each spiral, such as the nautilus shell.
The love of nature and of being outdoors is obvious throughout the book but combines this the science in an engaging way.
Then, on the final pages, the science is explored in a child-friendly and easily explained way, just right to start the conversations with children about the way spirals support and help nature – from the butterfly's tongue to the Fibonacci sequence.
This is an ideal book for children who may be exploring spirals or rotation in their schematic play, especially with Beth's charming illustrations, which are full of tiny, precise details to discover.
In short, this is a book that can be enjoyed for its lyrical words, gorgeous and meticulous illustrations or the science of spirals in nature. That has to be perfection!
You can purchase both Kindle and hardback editions of the book on Amazon here (Affiliate link) or order from your local bookstore.