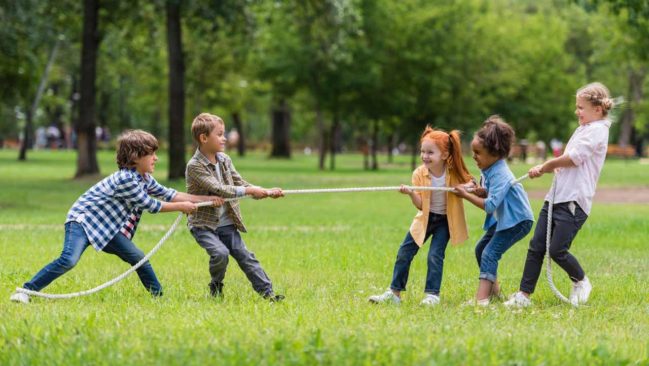 A guest post by Verity Downing (MEd Open) – Master of Education
Qualified Early Years Practitioner and Independent Academic
Within this reflective opinion piece, I refer to 'female students' and 'girls' and 'male students' and 'boys' as a matter of reflecting the phrases used in the government data, although, I respectfully acknowledge that gender and sex are deeply personal states of being that everyone expresses differently.
This title is ambiguous, I grant you. But what I'm referring to is the gap between the success of female students and male students across the EYFS that has remained a constant from 2013 to the present (DfE, 2019). This may come as a little bit of a shock, especially as I think it's fair to say that we've become accustomed to describing our EYFS as 'gender neutral'.
While it is an absolute positive that we can see, from information published in October of 2019, that the "gender gap continues to decrease" (DfE, 2019), it has only done so by "0.6 ppts from 2018" (DfE, 2019). This translates to girls still exceeding the success of boys with regard to "a good level of development" (DfE, 2019) by "12.9 ppts" (DfE, 2019). The biggest consistent gap between the success of boys and girls can be seen in reading and writing, however, in recent years, gaps are becoming worryingly evident in "self-confidence and self-awareness […] and the world" (DfE, 2019).
These gaps lead me to think: are girls outperforming boys, or are these gaps showing themselves because there is a disparity between what practitioners expect from boys and girls, or perhaps, looking farther afield, do the ELGs and Development Matters statements lend themselves towards stereotypically feminine strengths? I will stop myself from going down the rabbit hole of theoretical comparisons and the fundamental underlying principles of EYFS' culture, and instead, concentrate on how we can tackle this disparity and ensure that no child is being disadvantaged as a result of their sex or gender expression.
My concerns with there being a gap between the success of boys and girls at this early age are;
that boys may not be being supported to reach their full potential,
that girls are seen to be over-achieving in the EYFS and are consequently being set-up for a fall in their future education (due to teachers' expectations being too high of them as they were seen to be doing so well in the EYFS) and,
that these gaps could continue into later life.
It is our responsibility to liberate children from the "deleterious impact of gender-stereotypes" (Wolter et al., 2013, p. 64) and support them as they develop confidence and capabilities across the social and educational spectrum. A wide-ranging set of skills and interests will serve them well in the long-run.
Researchers offer the following explanations for the persisting gap:
It is thought that practitioners could fall into adopting traditional gender-based stereotypes of children (Baroody and Diamond (2012), Chapman (2016) and Runions (2014)), which can affect the children's outcomes (Matthews et al., 2009), Robinson-Cimpian et al., 2014).
Sanford (2005) suggests that there is the chance that learning and educational development is happening in the EYFS, but that it is not being recognised. This goes back to my point that EYFS guidance tends to focus on feminine strengths. If, for example, boys are regularly seen playing with the blocks, it is possible that this familiarity closets the learning that is taking place (this example may explain the gap that is evident in "shape, space and measure" (DfE, 2019).
This also relates to practitioner's valuing and recognition of behaviour that fits with their gender-based ideals. Chapman (2016), in her work that delved into how gendered ideas affect play within Australian EYFS settings, details that EYFS practitioners may give varying amounts, and types, of feedback to their students depending on their sex and behaviour.
While it goes without saying that all EYFS practitioners strive to ensure that they have relationships with the children that encourage feelings of safety, trust and fun, it is thought that girls are more likely to have better relationships with practitioners than boys, as their perceived superior social skills bias practitioners towards them (Robinson-Cimpian et al. (2014), Runions (2014) and Sanford (2005)). This in turn will influence where the children play and consequently what learning experiences they encounter. It could be concluded that the feeling of safety that is cultivated through these relationships may lead to female students exploring more areas of the setting, and boys not, resulting in the ELG gender gap (Downing, 2020).
Children may police each other with regard to behaving within gender stereotypes. Prioletta and Pyle (2017), who spent a considerable amount of time observing EYFS children at play in settings in Ontario, Canada, found that "in 70% of the videos, girls and boys played separately" (p. 398). This data also showed that the predominantly girl-only play happened at "the art/writing centre" (p. 398) and the boys-only play was mostly observed at "the blocks centre" (p. 399). I imagine that this will be relatable to many. This peer-on-peer policing based on understandings of gender can restrict the breadth of learning experiences that the children have. The writers go on to detail how at the girls-only play centres, the opportunities for literacy learning experiences were abundant, yet this is not the case for the boys-only play (Prioletta and Pyle, 2017). There is probable cause to think that this trend could be partially responsible for the gap in outcomes that are presented in the government data.
What can we do about this?
The smallest changes can make the biggest of differences.
Invite as many different people into your setting as possible. Sometimes there is nothing more influential than for a child to meet a 'real-life [insert job title]'. Additionally, think carefully about how you interact with your visitor and the language used about them as the children will follow your lead. This then leads into ensuring that your setting represents people defying gender stereotypes in society. Also, if a female/male comes in to visit and is in a traditionally feminine/masculine job, ensure that this is as equally represented and appreciated as someone who is working outside of gender stereotypes.
This leads on to ensuring that we are mindful about the language and phrases that we use when around the children. "Matthew, can you please hold the door open as you're a big, strong boy" may seem like a harmless phrase, but this is conveying all sorts of messages to Matthew and the other children who are listening in.
Think critically about how you assess your children. "Dominic is playing with the blocks again. I've already got an observation of him using positional language". Don't overlook this; what else is happening there? Is he sharing and taking on his friends' ideas? Is he persisting when that top block wont quite stay still? Is he making a garage just like the one that mummy took the car to on the weekend for it to be fixed? Sometimes we have to look beyond what is right in-front of us and recognise the children's play for its variety and value.
We need to get to know our children. The more that we talk 1:1, in small groups and in bigger groups with our children, the better. This immediately nips in the bud any chance of us falling into gender stereotypes if we can value and understand our children for their special, individual, little selves. Also, choose a topic to discuss with your key group. Let's say 'People who help us'. Brainstorm it together and model using inclusive language. If an unhelpful gender stereotype comes up, address it. Handle the situation gently and ask lots of questions. "Girls can't be firemen!" "Why do you think that? Have you seen this book where there are lots of pictures of girl firefighters? Heather, would you like to be a firefighter when you grow up? It would be great to help people, wouldn't it?". These conversations allow us to open the children's horizons.
Let's encourage the children's ownership of the resources. If you notice that one area is dominated by boys which could potentially alienate girls, or vice-versa, address it! Ask the boys why they don't play with the playdough. "We like to play outside". So, take the playdough outside! "We like the building area". Incorporate little diggers and signposts into the outdoor playdough area. The results can be astonishing! Plus, think of all of those opportunities for incorporating fine-motor skills and mark-making skills into that play. I can sense the reading and writing gap narrowing as I type!
This then opens up the wonderful world of the role-play area. Building on from your brainstorming, "Perhaps we could turn our role-play area into a fire station?" Facilitate the children to have an input into creating this area. The opportunities for encouraging inclusive play in this area are endless. Oh, and get involved! Model playing different roles. This is a great way to build and strengthen your relationships with the children that will encourage them to see you in a whole new light. Prioletta and Pyle (2017) say "becoming involved in children's play can be a useful way for practitioners to encourage […] alternative ways to be a girl or boy" (p. 405). We mustn't underestimate our competences, versatility, and adaptability, and instead should push ourselves and capitalise on it because we can be incredibly influential in showing the children that everything is available to them.
In an ideal world, there would be a more balanced EYFS workforce, with more men joining the profession. However, when reflecting on their research, Wolter et al. (2013) said:
"it is not the biological gender of the kindergarten practitioner per se that has a differential effect on girls' versus boys' competence. Rather, our female practitioners were just as effective in supporting individual learning in boys as in girls as long as they took care not to provide predominately feminine gender-typed activities but offered masculine gender-typed activities to the same extent" (p. 64).
I have written this piece, chose to focus on it for my Masters research, and hope to continue researching it during future Doctoral work, because I really believe that we owe our littlest learners the best start to their education; a start that is free from the restraints that society puts on sex and gender expression. We want our learners to develop skills and interests in the widest reaching range possible. We want our learners to take these skills and interests on into the big wide world and change it for the better. We want our learners to be whatever they want to be, and we as practitioners can support that. And it's wonderful.
(Please note, statistics for the 2019-2020 period were due to be released this month, however, due to the pandemic, the scheduled release will not be going ahead https://www.gov.uk/government/statistics/announcements/early-years-foundation-stage-profile-results-in-england-2019-to-2020)
References:
Baroody, A. and Diamond, K. (2013) 'Measures of preschool children's interest and engagement in literacy activities: Examining gender differences and construct dimensions', Early Childhood Research Quarterly, 28(1), pp. 291-301.
Chapman, R. (2016) 'A case study of gendered play in preschools: how early childhood educators' perceptions of gender influence children's play', Early Child Development and Care, vol. 186, no. 8, pp. 1271-1284.
Department for Education (DfE) (2019) Early years foundation stage profile results in England: 2019, [Online], Data Insight and Statistics Division, Department for Education. Available at https://assets.publishing.service.gov.uk/government/uploads/system/uploads/attachment_data/file/839934/EYFSP_2019_Main_Text_Oct.pdf (Accessed 5 October 2020).
Downing, V. (2020) 'The stronger the bonds, the greater the chances of success: Actioning on research to address the gender-based achievement gap in the Early Years', Impact: The Journal of the Chartered College of Teaching, Issue 10, Autumn 2020, pp. 34-36.
Matthews, J. S., Cameron Ponitz, C. and Morrison, F. (2009) 'Early Gender Differences in Self-Regulation and Academic Achievement', Journal of Educational Psychology, 101(3), pp. 689-704.
Prioletta, J. and Pyle, A. (2017) 'Play and gender in Ontario kindergarten classrooms: implications for literacy learning', International Journal of Early Years Education, vol. 24, no. 4, pp. 393-408.
Robinson-Cimpian, J., Ganley, C. and Copur-Genctruk, Y. (2014) 'Practitioners' Perceptions of Students Mathematics Proficiency May Exacerbate Early Gender Gaps in Achievement', Developmental Psychology, 50(4), pp. 1262-1281.
Runions, K. (2014) 'Does Gender Moderate the Association Between Children's Behaviour and Practitioner-Child Relationship in the Early Years?', Australian Journal of Guidance and Counselling, vol. 24, no. 2, pp. 197-214.
Sanford, K. (2005) 'Gendered Literacy Experiences: The Effects of Expectation and Opportunity for Boys' and Girls' Learning', Journal of Adolescent and Adult Literacy, 49(4), pp. 302-315.
Wolter, I., Gluer, M. and Hannover, B. (2013) 'Gender-typicality of activity offerings and child-practitioner relationship closeness in German "Kindergarten". Influences on the development of spelling competence as an indicator of early basic literacy in boys and girls', Learning and Individual Differences, vol. 31, no. n.a, pp. 59-65.