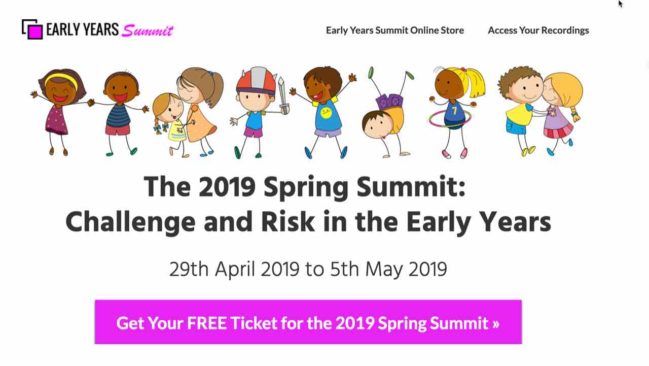 What do you think of when someone mentions 'risky play'?
Maybe it's "We used to go out to play by ourselves and had to be back by tea-time".
Or maybe you think about the rope swing in the big tree or the time you went so fast down the slope on your bike that you landed in the stinging nettles at the bottom.
All of these types of play can be considered 'risky'. Indeed, Professor Ellen Sandseter has researched this and identified 6 different types of risky play:
Play at height
2. Play at high speed
3. Play with dangerous tools, including ropes
4. Play near dangerous elements, such water or fire (or stinging nettles!)
5. Rough and tumble play
6. Play where you get 'lost' or out of adult's sight
On the 2019 Spring Early Years Summit, I have 15 Early Years specialists and experts from around the world – including Professor Ellen Sandseter – sharing their expertise and knowledge about risky play. Everyone offers their top tips, advice and strategies for risky play, no matter where you are on the risky play spectrum.
Interestingly, a number of the speakers say how they themselves were not confident with aspects of risky play initially, but have now embraced it because they can see the huge benefits for children – from self-esteem and resilience, right through to physical development. The value of a benefit/risk assessment can't be emphasised too much!
The other half of this Summit is 'Challenge'. I think it is really beneficial to try to understand the challenges that the children face in our settings, from micro-transitions to social interactions to moving onto their formal schooling. These often mean an 'emotional risk' for children as they make new friends or extend their own knowledge about the world around them.
In the Summit, we explore cognitive load theory with Alistair Bryce-Clegg, and how the different challenges children encounter can be 'Cup filling or Cup emptying' with Sandi Phoenix, using the Phoenix Cups framework.
As usual, there are all the practical activities that provide both Challenge and Risk, from Woodwork with Pete Moorhouse, Japanese outdoor environments with Julie Mountain and injury and risks outdoors with Dr Mariana Brussoni. In addition, the Summit includes information for managers and administrators, from policies and procedures with Rachel Buckler, Risk and the Ripple effect with Chanie Wilschanski and policy review of benefit/risk assessment with Tim Gill.
I'm sure you will also enjoy the thought-provoking perspectives from Sid Mohandas on gender stereotypes in risky play, Kathryn Solly's 'challenge and adventure', Helen Little's research on suitable environments for risky play, as well as Niki Buchan's views on hazards and a 'safe' environment.
There is definitely something for everyone in the free, online 'Challenge and Risk' Summit – whether you are the person on the bike going exceedingly fast into the nettles or the person watching and waiting with the dock leaf in hand.
To sign up for access details and more details about all of the speakers, please go to the dedicated website here or here: www.earlyyearssummit.com.