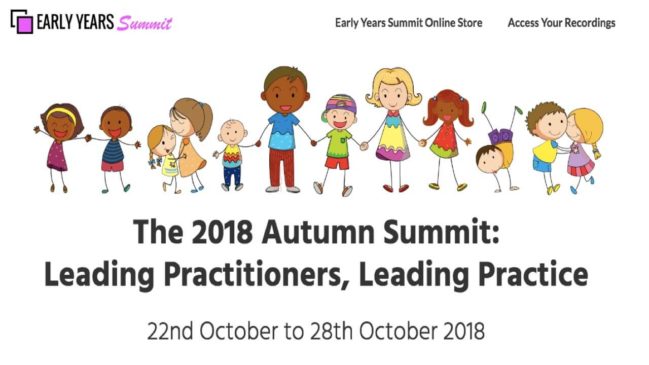 I'm very excited to announce that the Early Years Summit has had a bit of a make-over.
The Early Years Summits are free, regular, online conferences. Twice yearly a group of experts and specialists share their knowledge, research, expertise, and enthusiasm with the world. These have had themes such as Quality Interactions; Personal, Social and Emotional Development; Physical Development; Outdoor Play and Learning.
As usual, these video interviews are available for free during the broadcast week – 22nd to 28th of October 2018.
But this Autumn Summit 2018 has something a bit extra.
You'll still hear from leading Early Years experts from around the world, such as Alistair Bryce-Clegg, Christopher Phoenix, Professor Jan White, Rachel Buckler and Sandi Phoenix.
There's still tons of great advice, thought-provoking discussion and lots of top tips to support your Early Years practice.
BUT – in addition to all this is a full programme of leading practitioners and educators from around the world, who are doing exceptional things for their children, from unusual environments to reflective safeguarding practices to children's and practitioner's wellbeing.
​
These outstanding practitioners and educators explain how they have implemented, grown and reflected on their own practice. They offer real-life solutions to challenges you may be having right now. You can learn about their methods and processes. Find out how they are making it better for children and get lots of support and advice to help you do the same. Of course, there are always the 'top tips' as well!
I'm delighted to have the experience and knowledge of both experts AND practitioners on the Summit in this unique way.
To find out more details and to sign up for the Autumn 2018 Early Years Summit, simply click below: