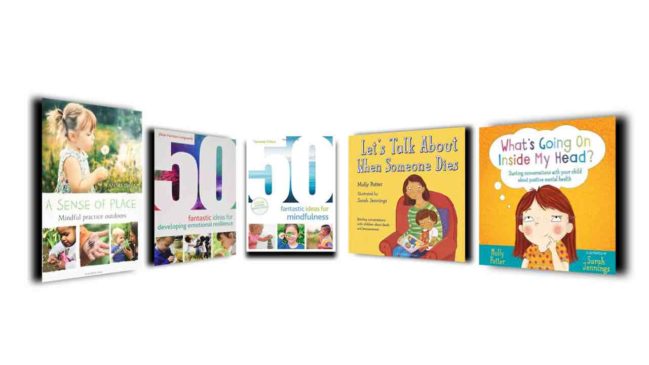 It is becoming more and more important to understand children's mental health.
It is too easy to assume that children have no worries because they don't need to pay bills, go to work or care for others.
The statistics are alarming. For example, one in eighteen (5.5%) preschool children have been identified with at least one mental disorder (1). But knowing there's a problem and knowing what to do about it are two very different things.
So I was delighted to read five very helpful, but very different books this month, all published by Featherstone (part of Bloomsbury Publishing)(2)
What's going on in my head? by Molly Potter
A beautifully illustrated book, written using language that is ideal to share with even the youngest of children, this book starts with how emotions link to general health. Molly goes on to give some meditation ideas for children; asking for help; friends and thinking habits.
There is much to enjoy about this book. The many different scenarios and the variety of solutions are particularly useful – addressing the vast majority of everyday situations that children may find themselves in, from friendship problems to school and parents.
There are three full pages of guidance for parents and carers at the back, which condenses the advice, including resilience and emotional literacy.
There are two great books in the Featherstone '50 Fantastic….' series that I've chosen for their help in supporting children's mental health.
<!–more Keep on reading!–>
2. 50 Fantastic Ideas for Emotional Resilience by Jillian Harrison-Longworth
Jillian notes at the beginning of her book that children do not learn to be resilient by osmosis, they need to be taught some skills directly. Her 50 Fantastic activities are perfect for this.
The 50 activities are 10 in each of the 5 key characteristics of emotional resilience: routines; self-esteem; confidence; perseverance, and co-operation. These activities look deceptively simple, for example, drawing together or talking about your own reflection in a mirror, which means you can pick up the book and use it immediately.
However, to get the most from these activities, I would suggest treading about each of them all the way through, including the top tips, to ensure you understand the reasoning behind each activity.
3. 50 Fantastic Ideas for Mindfulness by Tammie Prince
This book has some excellent meditation and mindfulness activities. Most of them require no resources or very simple resources that you are already likely to have, such as pebbles, mirrors or leaves.
The activities are mostly about the process as children use their natural mindfulness to stack stones, flower breathe or smell the roses (or other flower scents).
The book ends on some 'mindful teacher' ideas for practitioners and educators. Although I think practitioners could easily use the ideas intended for the children for their own mindfulness as well. For example, the first activity, Just Breathe, changes 'energy from tension to relaxation' simply by using a breathing technique. Easy, useful and very effective.
4. A sense of Place: Mindfulness Outdoors by Annie Davy
This book on mindfulness is a more in-depth book, with references to seminal work and some interesting research references. Chapter 6 on mindfulness pedagogy is particularly interesting and includes focusing on the breath, nature's breath, fire and finding a 'sit spot'.
A sit spot is described as a place where adults can sit quietly and notice the invitations or affordances that nature offers for learning – as well as the impact this can have on everyone's wellbeing.
The 3 part structure of this book – Setting the scene; Learning through the senses, and A sense of place – makes this an easy book to access, whilst still discussing some complex ideas and concepts.
5. Let's Talk about When Someone Dies by Molly Potter
Hopefully, this is something that, as parents and practitioners, that we don't have to encounter too often, but there may be occasions when it is necessary.
As with Molly's other books, this is beautifully and sensitively illustrated throughout, with clear advice.
Molly includes some pages on different types of funerals, as well as how children may feel or the questions that may come up. This is an excellent book for practitioners and parents who would like to discuss death with children in a clear and non-euphamistic way. It would be ideal to have in the staff room or office, ready in case it was needed to help support children through difficult times in their lives.
So, five very different books, but as a group, they cover a lot of angles when supporting children's mental health as a matter of good practice.
It is also very encouraging to see ever more recognition that the practitioner's own mental health is valued in these books as well.
You can purchase these books on the Bloomsbury website here: https://www.bloomsbury.com/uk/superpage/featherstone/
or from Amazon here:
What's Going on in my head by Molly Potter
50 Fantastic Ideas for Emotional Resilience by Jillian Harrison-Longworth
50 Fantastic Ideas for Mindfulness by Tammie Prince
A sense of Place: Mindfulness Outdoors by Annie Davy
Let's Talk about When Someone Dies by Molly Potter
(1) https://files.digital.nhs.uk/A6/EA7D58/MHCYP%202017%20Summary.pdf
Mental Health of Children and Young People in England, 2017 Published November 2018 by NHS Digital
(2) Disclaimer: I was sent one or more of these books from the publishers for free. You can be assured that the reviews are fair and honest reflections of the contents.