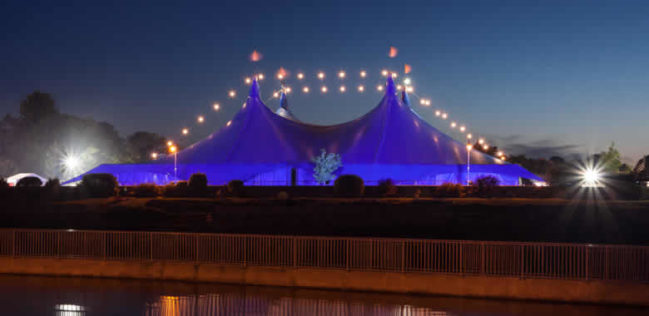 On Wednesday I had the enormous pleasure of visiting a fascinating company nestled in the skirts of Liverpool's Catholic cathedral.
I had met Mark in London before Christmas and he had been telling me about his office, which has a circus theme. Intrigued, I asked more "Well, we have a big top, a giraffe and hold our meetings in front of the ball pit…would you like to come and have a look?" Would I?!
When I arrived, true to his word, there was a giraffe, a gorilla and even an elephant in the room (but we didn't mention him…).
Quiet meetings are held regularly in the fully fitted Romany caravan at one end of the offices, there is a fully functioning popcorn machine by reception and a staff room where you can actually spin plates. Having played with the Nerf gun and met the team, we then had to get to business.
Mark Wright works for Angel Solutions, who design, create and deliver innovative web applications for the whole of the education sector.
The reason I had originally spoken to Mark in London was because I had discovered 'Watchsted' which is one of the applications they have developed. On this site you will find a map of England, with pins marking recent Ofsted inspections. By clicking on the pin, you can see the name of the school or setting and a colour coded bar chart with their results for each section.
I use it regularly to track inspections in my local area, to see the types of things that inspectors are mentioning as good practice, and to analyse the type of training needs for the area. This helps me to make my training relevant and up to date for my clients.
It is an amazingly powerful tool and can be quite addictive. AND its free!
You can also analyse data, make comparisons with other settings around the country. So, for example, you can very easily see if you are the only Outstanding childminder in a five mile radius – great for the marketing flyers. This is still part of the free package, but for an annual fee you can get some fantastic analytical tools that would be very useful for large chains or Local Authorities.
The one that caught my eye was an inspector analysis, showing how many inspections that each inspector has completed and their outcomes.
In fact, there were a number of useful data groups, which I could see being used in a wide variety of different situations.
But the biggest learning point for me was the ethos and philosophy of the company. Everyone I spoke to was enthusiastic about the project they were working on, there was genuine pleasure in being at work and striving towards a common goal.
Mark explained that they chose a circus theme, because each member of the team has a unique talent, which comes together to form the whole show, just as a circus troupe does.
Now, I'm not suggesting that you should deck your setting out as a circus (but how awesome would that be!!), but that valuing and recognising practitioner's unique talents is what creates a great team.
Having a strong, shared ethos means the whole team understands the common aims. Being able to communicate your philosophy effectively is so important – and not only to practitioners but to parents, outside agencies, other practitioners and schools as well.
It may be very worthwhile spending some time reflecting on how you could do this even better in your setting.
The best bit of all – I got to tell my two young nephews that I'd been working at the circus!
Discover Watchsted for yourself at: http://www.watchsted.com/