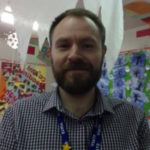 Rhys Penny has been teaching for 14 years in the school where he got his first job as a newly qualified teacher.
You will hear in the podcast how he has loved his career – and can't keep out of the Reception classroom!
I'm sure his route into the Early Years sector will make you smile.
Please do enjoy the podcast!
Podcast: Play in new window | Download
Subscribe: Apple Podcasts | RSS
Useful references
Website: www.cedarroadacademy.co.uk
Twitter: @cedarroadschool
Men in Childcare London: https://www.facebook.com/MeninchildcareLDN

If you enjoy the podcast, please leave a review on iTunes too – it helps to promote the podcast and get it to reach a wider audience.