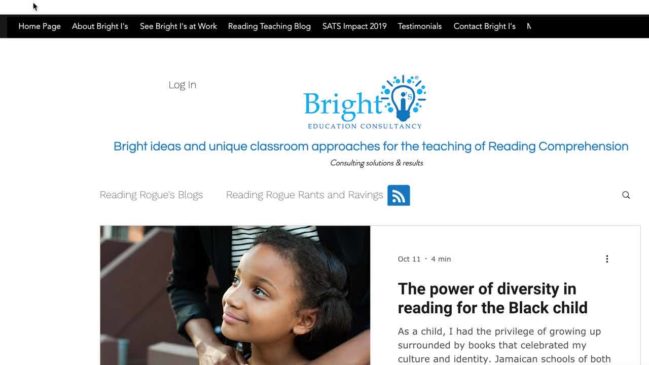 I had the enormous pleasure of interviewing TEDx speaker and author Dr Brynn Welch on the last Early Years Summit. Dr Welch's particular research interest is diversity in young children's literature and having books where children can 'see themselves'. It's something she cares passionately about – so much so that she wrote her own book for her son, Ben, called 'Bennie Goes Up, Up, Up'.
The interview really made me think about the books that we provide for children and how it is so easy to choose books without thinking about the messages we are sending children subliminally. For example, you don't have to be a star athlete or President – you can just be you enjoying regular activities. It also reminded me of something that Carmen Powell said in October 2019 when talking about her book 'Matthew and the Magic Goat', that the main character in her story has a prosthetic limb, but this isn't mentioned or play a part in the story. It's simply part of his life.
Having books that reflect children's own race, ethnicity, disabilities, family structures and every other facet of their lives is so important because it helps them to relate to the story and the messages about making friends, being kind or just reflecting their own experiences. Belonging and being part of the wider community is an essential part of self-esteem, self-worth, empathy, understanding, Theory of Mind and so much more – but is incredibly difficult if you can't relate to the stories that are being told.
It is also important that children appreciate and value families that are different from their own, with different cultures, heritages, traditions and artefacts, especially if they are unlikely to experience this in their immediate environment. Books may be their only window onto the wider, multicultural world.
With all this in mind, I was delighted to able to talk with Kala Williams, who is a literacy specialist, with a personal interest in diversity being in the forefront of educator's minds when choosing children's literature. Kala has an evident love of the printed word and bringing it to life for children, so I was delighted that she was able to discuss this with me AND read out a very pertinent poem in Patois as well.
You can watch the interview from 3rd January to 10th January 2020 for free on Early Years TV here:
https://www.earlyyears.tv/episode/kala-williams-on-culturally-diverse-literature-for-children/
It will then be available to Early Years TV Premium Members in the back catalogue. Find out more about Early Years TV Premium here: https://www.earlyyears.tv/go-premium/
Multicultural Children's Book Day Friday 31st January 2020
In addition, there is a Multicultural Children's Book Day to look forward to on Friday 31st January. This day features some incredible authors, free resources and lots of links for further information. Full details are below. Please do mark your diary for this great day!
The website is here: https://multiculturalchildrensbookday.com
Sign up on the website to get:
FREE Classroom Physical and Developmental Challenges Kit 2020: Understand and Celebrate our Differences
This FREE Classroom Kit contains books, activities, challenges and links to further resources.
Follow on social media:
Twitter: @MCChildsBookDay
Facebook: https://www.facebook.com/MulticulturalChildrensBookDay/
The hashtag on 31st January will be: #ReadYourWorld
Find the Literacy Early Years Summit here:
https://www.earlyyearssummit.com/online-store/
Carmen Powell was interviewed on Early Years TV, which you can access as part of Early Years TV Premium here: https://www.earlyyears.tv/go-premium/