May 24,2017 / By
Kathy
/ 1 Comment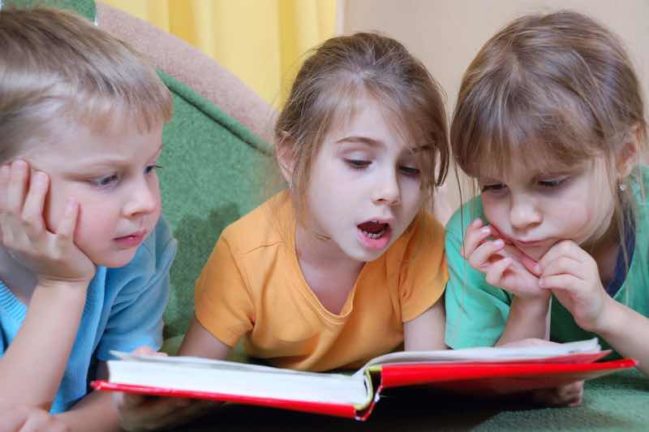 Today is 'National Simultaneous Storytime 2017′ in Australia, where all over the country children will be reading The Cow Tripped Over the Moon, written by Tony Wilson and illustrated by Laura Wood.
Linked with the fact that May is National Share a Story month which has the theme of 'Picture a Story' all about the illustrations, it seemed too good an opportunity to share all your favourite picture book ideas with everyone.
I had lots of great suggestions and you won't be surprised to hear that the Gruffalo was strongly recommended by many, including Sharon Wood who was the first person to nominate this great book, illustrated by Axel Scheffler.
Pamela Davenport chose another classic: We are Going On a Bear Hunt. She says "The book and wonderful illustrations by Helen Oxenbury captured my children's imagination, making up different endings to the story. Going on walks and exploring nature and the environment, my children loved to explore the swishing swashing grass, squelching mud and a variety of other senses associated with the story".
Sonia Mainstone-Cotton reminded me of a great book – Peace at last by Jill Murphy. Sonia says "I loved the illustrations and the repetitive writing. I have read this so many times to my children and many other children I work with. In more recent years, with the children I work with now I love Lost and Found by Oliver Jeffers and his other books. The illustrations are beautifully simple".
Jake Forecast also chose Jill Murphy, but his choice was "Whatever Next". He says "Baby Bear wants to go to the moon, so he grabs a rocket and snacks and sets off. He makes friends with an own, has a picnic on the moon and even waves to people on the aeroplane!
This book is a great way to express imagination and creativity skills. In my setting, we based an activity on the story, whereby a child uses a cardboard box, a sieve, a packet of biscuits and a pair of wellington boots to pretend we are on the moon. We also had other additional adventures with other suggestions!
A great book to recommend to all practitioners, especially is the topic is Light and Dark and using imaginative skills"
From the tried and tested to a book that was brand new for me: Lima's Red Hot Chilli, suggested by Paula Franklin. She says "This is my favourite book to read to pre-school children, it keeps them totally captivated by the wonderful illustrations and the repetitive phrase, 'don't eat the red hot chilli….' The children choose this book over and over again, it explores the five senses and we have based different activities around it, such as food exploration, tasting and cooking. It's also a great book for including in a story sack, the children love to anticipate what food comes next and the use of props enhance the story even more". I would totally agree that the illustrations are just incredible, full of colour and life. Beautiful!
Holly Warren has chosen two books where the illustrations were as important as the story:
1. The Flower by John light illustrated by Lisa Evans. The way she uses black and white, and colour are spectacular. Her illustrations are the soundtrack to the story, they give it depth and feeling. The colours of hope.
2.Ignis by Gina Wilson illustrated by P.J.Lynch. Another spectacular story where the illustrations take us right into the story making us feel part of it. The use of colour and texture kept us looking at the pictures wanting to touch the dragon and join in his quest.
Both gorgeous books!
Cathy from Aunt Cathy's Childminding Service had a Spring/Easter theme – 'We're Going on an Egg Hunt' (lift the flaps and find the eggs) and 'Charlie Chick' (pop up Book). She says "My kiddies just now are all loving both these books, I think I must read them at least twice a day, and they read them themselves. We have read them together so often, it's great to hear them making the stories up when they're reading them themselves." Cathy also has a book stash – a great idea!!
Konstantina Moustaka (Early Years Practitioner) explains why she likes this picture book:
"Picture books are such an important part of young children's lives and I have to admit that I am fascinated by the impact they can have on their development. I always find it very hard to choose just one but I think that 'My adventure island' is definitely one of my favourites.
Timothy Knapman's rhyming text makes this book extremely pleasant to read. Illustration in books is also very important since children spend most of the time observing the pictures and read through them. On top of that, Sara Warburton's bright colours and vivid images engage children and let their imagination run wild. They go on an adventure to eat chocolate cake, to enjoy an ice-cream with a dinosaur, to be a pirate, a cowboy, a magician, a knight, to climb on top of a tree and jump in a mud pie.
In this book, a family is presented by Timothy Knapman as a safety net for young children. They can spread their wings and fly but they can always land safely. They can travel to their imaginary island without any fear because it is an island so close to the land!"
Finally, Rachel McClary, as a self-confessed picture book addict, couldn't choose one, so chose five! https://rachelmcclary.com/2011/03/05/my-top-5-books-for-under-5s/ AND a favourite author: https://rachelmcclary.com/2011/07/13/lauren-child/
Thank you, everyone, for sharing your choices and I hope you have an enjoyable Simultaneous Story Day!