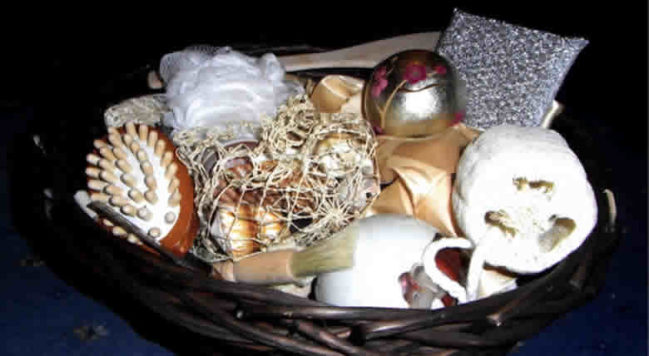 General Rule: No Plastic!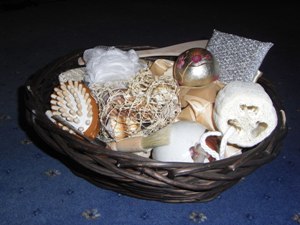 Children need to experience the sensation of touch. In this day and age most toys are plastic – smooth and uniform. How do you know what prickly means if you've never felt it? It is our responsibility as practitioners to give the children these experiences, in a safe, controlled environment. The treasure basket is full of sensations for the baby, from cold and heavy to wooden or shiny. Our role is to provide the experience and support the learning.

How to use the treasure basket
Have the babies sat comfortably in a circle, with support if they aren't sitting confidently by themselves. The practitioners sit behind the babies, ready to intervene if necessary. Your role is to sit back and watch.
The treasure basket is put in the middle of the circle, so the babies can reach inside it easily. Allow them to explore each item. A baby may choose just to play with one, or may look at every item.
Sit back and watch.
Practitioners should be watching, but not talking. This is a fabulous time to make observations for profiles/learning journeys and taking photos. Allow plenty of time for the babies to investigate the whole basket. This could be 45 minutes or an hour! If you feel that something is dangerous then intervene.
A word on health and safety
Obviously as a practitioner you are not going to place your children in harm's way. Some of these objects may be considered to be potentially dangerous, particularly for babies who are still putting things in their mouths. You know your children and what you would be happy for them to experience. You know which ones will always chew first, ask questions later, or see any object as a weapon! This is entirely at your discretion.
Items should be cleaned regularly and thrown away if broken or considered dangerous.
Treasure baskets should be treated with respect. They are best used maybe a couple of times a week, no more. This means the babies stay interested each time. You could also have several different baskets, with a theme such as shiny or wooden.
The Contents of the Treasure Basket
Items you might like to use for treasure baskets:
Natural:
Fir cones
Pebbles (large)
Shells
Large chestnuts and shells
Pumice
Corks
Loofah
Sponge
Apples
Oranges
Lemons
Driftwood
Wooden:
Spoons
Natural block
Egg cup
Coaster
Bowl
Raffia ornaments
Pastry brush
Pegs
Metal:
Bunch of measuring spoons
Tea strainer
Chains (different sizes and textures)
Large empty tin
Small saucepan
Whisk
Bells
Bowl
Others
Natural brushes
Leather goods
Fabrics of all sorts – include ribbon, lace, velvet
Ceramic balls
Furry items
Rubber
Balls – tennis, golf
Thick glass – ashtray, candle holder
Mats
curlers
Smelly bags eg lavender, cloves, cinnamon
These are just a few ideas. Once you start going round your home and nursery you will see lots of things you can use. The kitchen is usually full of 'treasures', from ladles to wood spoons to pastry brushes.
You do not need to spend a fortune. Your biggest outlay may be the basket. Mine cost £8 from Au Naturale. The rest could be potentially free. Ask your parents, look for safe objects in the £1 shop.
References
Featherstone, S (2002) The little book of Treasure Baskets Featherstone Education Ltd
Goldschmeid, E and Jackson, S (1994) people under three – young children in day care Routledge, Oxon
Hughes, A (2006) Developing play for the under 3's – the treasure basket and heuristic play David Fulton Publishers, Oxon
Websites
https://www.peeple.org.uk/what-is-ltp
The Learning Together Programme (LTP) from PEEP (Parents Early Education Partnership) aims to help parents and carers to:
value and extend learning opportunities in everyday life
improve the quality of the Home Learning Environment
develop secure attachment relationships with their babies and children
gain credit-rated qualification units based on supporting their child's learning and development.
It has some great ideas in general and the page on treasure baskets is very practical
http://www.contentedchild.co.uk/howtouse.htm The contented child site has lots of useful ideas and comments.
http://www.playtoz.co.uk/ You can buy books and resources from this site