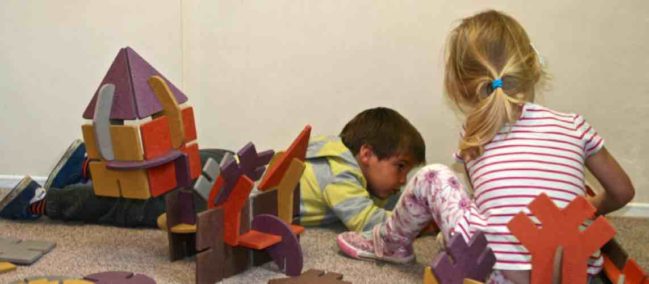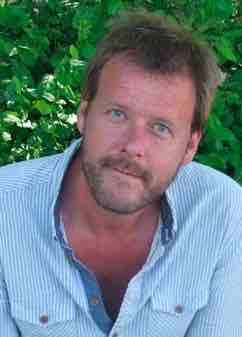 Artist and qualified teacher, David Veron invented a creative construction toy for his wife's daycare nursery in 2015. Realising its potential he offered it to nurseries and schools near his hometown of Otley in Yorkshire. By the start of the second year began exporting across Europe and as far away as The Falkland Islands. The construction toy he called u-nu has now been enjoyed by thousands of young children.
David has kindly written this guest post about some of the things he has learned about how children use construction to further their learning, imagination and design skills.
I'm now approaching the end of my second year exploring the subject of early years construction and I'm finding out all sorts of interesting data.
There can be little doubt that early years construction is a vital part of how we encourage children to explore the world around them. By combining different kinds of construction materials, both bought and found, and making them available in an area of continuous provision, we offer children the opportunity to develop a diverse range of skills, from creativity to collaboration – from gross and fine motor skills to numeracy.
It goes without saying that we should also take an holistic approach to their learning, and where children are engaged in one activity, we as practitioners need to remain aware of the opportunity to introduce elements from their other experiences.
Take for example the activity of building a tower. This could relate to a book that has recently been read to the children, let's use for example the classic story of Rapunzel.
What if we then introduce some small world toys and engage with the child to recount the story, asking them questions about how Rapunzel feels being trapped up in a tower. They may wish to subvert the story and to take ownership of the narrative. This in turn may feed back to redesigning the original structure of the tower to provide Rapunzel with her own means of escape.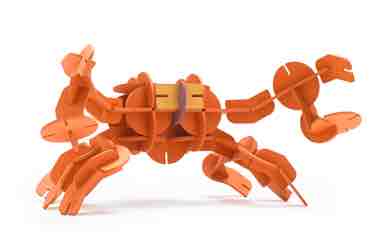 Are we still just developing gross motor skills while doing a bit of early years maths? Of course not, suddenly we're helping them develop their own story telling abilities while exploring the child's empathy with a character. The child is experiencing the formation of a narrative and representing it through language, at the same time they are being creative, exploring materials and using them in an informed way to meet their goals. All good EYFS learning.
By exploring the ways in which we use our resources we extend the value in them. By cross-referencing what we discuss with children with the early learning goals in the EYFS, we can begin to see the world through a child's experience.
Where we see a bunch of wooden blocks sprawled across the floor, they see characters or landscapes in the narrative of their play. Once we enter the imagination of the child we can begin to enhance their play experience, guiding them gently towards their early learning goals. We can only do this when we understand more about the potential of our resources.
Picture if you will an image I once saw of a number of stepladders lying in a pile on the floor next to a garden wall. There was a person on top of the pile of stepladders struggling to peer over the wall.
This image was intended to illustrate the point, 'It doesn't matter how many resources you have, they count for little if you don't know how to use them'.
This resonated with me. Over the years I have seen resources remain unused both in our nursery and in my time as an art teacher in a secondary school. This is not always an indication that someone bought the wrong resources, rather that no one has considered how to benefit from that particular resource by applying a little creative thinking into how it is used.
Since launching u-nu I have had the privilege to encounter a large number of excellent practitioners. Some of these dedicated educators have shared their experiences with me, providing ideas of how u-nu can help young children develop through different stages of exploration during play, obtaining transferable skills along the way.
In discussion with my wife (a nursery owner for the last 12 years) we decided to try and bring these ideas together and share them with other practitioners using u-nu in their settings. To this end we have designed a set of work cards offering suggestions of how to engage children in the construction area to achieve better learning outcomes.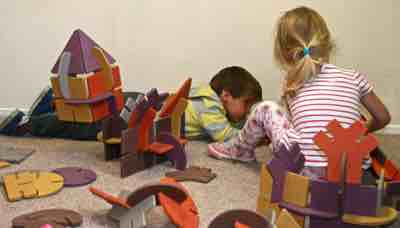 As a teacher as well as the originator of the whole u-nu concept, I feel it is incumbent upon me to maximize the educational benefit my invention can have upon young minds.
At u-nu we always welcome feedback and want to share examples of best practice. We are on a mission to assist settings provide the very best outcomes within the construction area.
If you'd like us to send you our free support worksheets, including our easy to follow assessment pro forma you can contact us at u-hu@u-nu.co.uk
If you haven't already adopted u-nu in your setting and wish to do so, then please use the code kathybrodie to receive a 10% discount when checking out at u-nu.co.uk
You can find out more, and hear what Early Years Professionals have to say about u-nu by watching this short video.