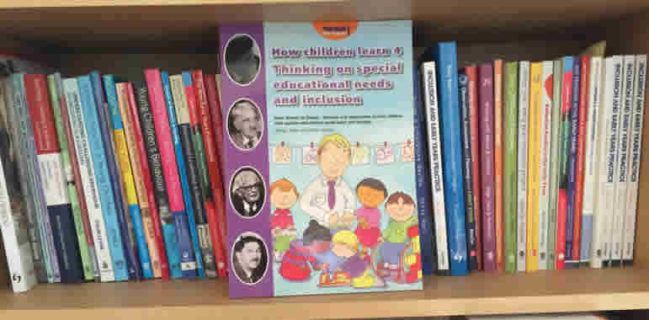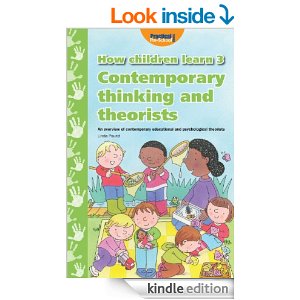 I have written a couple of posts already about the excellent Linda Pound books – How Children Learn Book 1 and Book 2. I am frequently asked if there are any more, so I'm very pleased to say that there are also 2 further books in this excellent series:
Book 3 is Contemporary Thinking and Theorists by Linda Pound was published a couple of years ago (2012) and updates the theorists right to the modern day. There are plenty of familiar names featured – such as Tina Bruce, Bronfenbrenner, Janet Moyles, Ferre Laevers, Kathy Sylva and Margy Whalley. There are also some people who cross discipline boundaries, such as Steven Pinker and Guy Claxton.
As with the other books in the series, a good synopsis of each of the theorist's tenets is given. This is supported by references to the seminal texts and suggestions for further reading on the subject. Significantly this book has some great sections at the back about general child development.
These are:
Brain and body: how the development of neuroscience has highlighted the importance of physical movement and brain development in young children. This includes information about the senses, mirror neurones and a very useful comment section that critiques some of the 'brain-friendly learning'.
Care and education of children up to three: Here the ideas and concepts around the idea of 'early childhood' and how this has varied across time and varies across culture are discussed.
Gender Issues: This is a massive topic, with many different facets, but Pound had summarised these well, with plenty of further references that can be used by students.
Moral Development: An interesting addition, this section is a discussion about morality as a 'lifelong concern' (page 78) and has some thoughtful interpretations of the theories.
Postmodernism: This is an excellent section for any student who has to get to grips with the ideas around postmodernism and how this affects their work in Early Years. Postmodernism can be viewed as the rejection of the simple one 'right way', that there is only one way of doing the very best for our children and that there are multiple 'truths'. This can be a challenging idea for some practitioners, who just want to know what the right answer is, or the 'best' form of practice. This section clearly explains the main arguments and the key players. I would suggest it is a great starting point for any practitioner.
In conclusion, Book 3 is a good read for both the casually curious and the serious student who wants to know about contemporary thinking on children's learning.
Book 4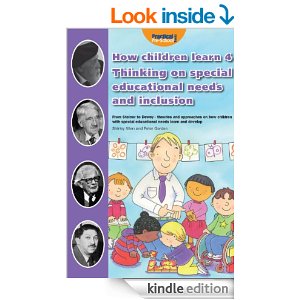 is Thinking on Special Educational Needs and Inclusion by Peter Gordon and Shirley Allen, originally published in 2011. The beauty of this book is that all the theorists are in here – Bandura, Bloom and Rogers, as well as the classic Early Years people – Piaget, Vygotsky and Montessori. This means that it is a neat, self contained book for those who simply want to know all about the thinking around Special Educational Needs (SEN) without having several different books for different areas of development. There are more end sections with this book, which cover:
Multi professional working
Partnership with parents
Observation and assessment
Listening to children
Hearing and visual impairment
Learning through the arts
Assistive Technology
Behaviour
Emotional intelligence
Of these, the two that I found most intriguing were Behaviour and Emotional Intelligence.
The behaviour section is a good mix of theorists (Skinner, Freud and Rogers) and how this theory relates to practice. The practice section has a focus on SEN and touches on some of the complexities with behavioural issues and SEN. The references and further reading list is very useful.
The emotional intelligence section summarises and defines some of the main concepts around this intricate subject. It is an area that is still developing and expanding, especially when combined with neuroscience research. There is also some discussion around the thorny issue of the additional emotional needs of a family who has a child with SEN. This section is an excellent starting point for investigations into emotional intelligence in general.
I have found both these books very useful and often find they are the easiest source of information when you just need to quickly know whose theory you were trying to recall. Their concise, clear nature makes them an accessible read and a great starting point. If you do need further information about your research topic, the references and 'where to find out more' boxes are there at your fingertips.
When all four books in this 'How Children Learn' series are put together, they form an exceptional selection of theorists, theories, concepts and ideas for every early years practitioner.