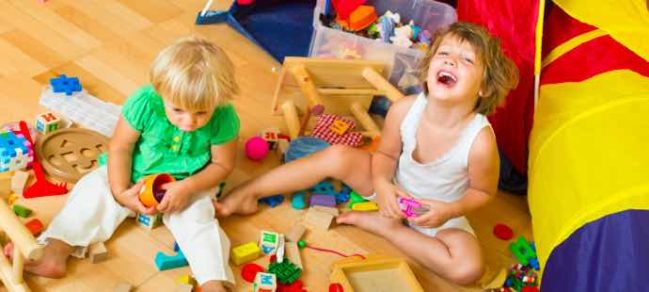 For some reason in the last few weeks I have either been doing lots of work with, or talking to, practitioners working in 'packaway' settings. These are settings that have to be packed into boxes and cupboards at the end of each day or each session, usually so the room or space can be used by someone else.
Although some of these are small settings, such as pre-schools, some are much larger, consisting of several rooms and outdoor areas. This can turn 'tidy-up' time from a quick check for any lego left out or toys in the garden into a huge logistical job where everyone needs to know their role inside out.
However, I do think that there are some great benefits that only those who DON'T have to heave boxes in and out every day can appreciate.
One of the biggest challenges is the time needed to clear up, especially if the after-school club or slimming club are waiting at the door to come in! Most settings do a clean and tidy at the end of the day, but this can sometimes fall foul to wanting to get home quickly. In a packaway setting, you HAVE to leave it all spotless (yoga done with glitter and play dough on the floor is not ideal!) so you can be sure that the children have a tidy environment to start with every day.
Depending on your set up, you may have to be moving large pieces of equipment or furniture, such as a foldup book corner. This is a great opportunity to be inventive with various pieces of equipment on wheels or finding corners that can be requisitioned so you don't have to move things too far. Similarly, you will be very innovative and creative when it comes to storage solutions. I've seen some amazing book cases and IKEA furniture used as storage, with each box carefully labelled, often with photos, Makaton sign and words of contents. Of course, the big advantage of this is that it gives an amazing learning opportunity for children to make the links between the contents, their sign and the words as well.
I have seen some great ways of using cork boards, where you can't fix things to the wall. These hang from hooks and can either be turned around, so others can use the space or removed and put away at the end of the day. Or using washing lines across the room to display pictures and creations. There are some lovely zig zag display boards that simply fold flat at the end of the day. This means that you have to consider what to display each day, keeping the displays fresh and relevant, rather than them becoming wallpaper.
If you are lucky enough to have someone practical in the family, you could have custom made storage boxes that stack or double up as book seats or can be used to display art work. I saw one beautiful home corner that was made from hinged boards that concertina-ed right against the wall at the end of the day.
However, the biggest advantage of a packaway setting – by far – is the practitioner's constant reflection and reviewing of the environment that is being provided for the children and their families. If you are having to find a place for the sand tray every day, you are much more likely to think "Is this the best place for it?" or "How can I vary this to meet children's current interests". Getting out the display board every day with the parent's notices on means you will soon spot when they get out of date or when you need to add that extra piece of information. And, of course, it also allows scope for the children to have a say in how the environment is set up and where the activities will be today.
There are many challenges and there is no doubt that it is extra work having to pack away your setting every day, but I also strongly believe that these fantastic advantages outweigh the challenges.
Enjoy your packaway setting, even when the Scouts are outside waiting to come in!